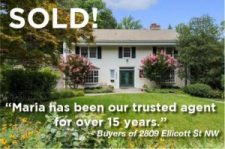 "Maria is an excellent realtor who assisted me with a rather complex real estate transaction where all parties were remote, including overseas buyers. Maria made this experience essentially effortless for me, thanks to her deep knowledge and extensive network. She is a unique resource." – DC Condo Seller
"I have spent many years living and working outside of the U.S., working with professionals, literally, from around the world – your demonstrated professionalism and competence is quite impressive, indeed, superior. I greatly appreciate the manner in which you and Norris have advanced my interest to its present position. I look forward to your, (you and Norris), continued advice and actions. With kind regards, I thank you." – Al
"I met Long & Foster Realtor Maria Hardy-Cooper through a very good friend who had worked with her on the purchase of a second home. What we thought initially would be a very smooth intra-family sale of an estate property, turned out to be anything but that! However, throughout the roller coaster process which ultimately resulted in the property being sold on the open market, Maria never wavered in providing excellent guidance and support, culminating in the successful sale and settlement of the estate property at $30K above list price. Maria Hardy-Cooper shall forever be my Realtor of choice!" – VM
"Maria has been a fixture in our residential real estate experience from the very first home we purchased in DC. We can always count on her to provide multiple options and remain focused on what is best for her clients. She is truly a family member!" – Buyer of Greenvale St NW
"You cannot find a more knowledgeable, professional and personable agent than Maria. Her passion and expertise are an unbeatable combination. She was my only choice when I decided to sell my house; and by the way she was the agent who sold it to me 12 yrs prior. We have stayed in contact and she has always been super responsive, even when I just had a question. Her advice and efforts were directly responsible for my home receiving an offer above my asking price by the third day it was on the market." – Seller of 26th St NE
"Maria has been my go to realtor since 2005. I can always count on her to be very professional, extremely knowledgeable and competent realtor. Over the years I've come to notice that whenever I've called her, rarely does she not answer. And if by chance she doesn't, it's always been my experience that, by her own initiative, she will send a quick note by text or just explain why she wasn't available when I called. That's quality service that I've come appreciate. This year, she was my listing agent for the sale of my family home. Maria shopped my home before it was officially listed and after only a week on the market, I accepted a strong offer. I always recommend her to anyone who needs a good realtor." – b bernales
"Maria has been our trusted agent for over 15 years. When considering our recent purchase, Maria was our first and only thought about who should represent us. Throughout the entire process, Maria was thorough with every detail and maintained a positive approach. It always showed that she had our back and we appreciate her counsel." – Buyers of Ellicott St NW
It was a pleasure working with you during our house-hunt this Spring.  To be honest, I didn't think we would find something so soon that fit our primary criteria:  access to Montgomery County schools, quiet neighborhood, within the beltway, and within our budget.  Beyond that, we had been bracing ourselves for having to lose out on multiple offers before having an offer accepted.  But that didn't happen either, as our very first offer got accepted.  Thank you for helping to make the whole process smooth, timely, and enjoyable, unlike the nightmare stories we have heard from friends! – G. & A. W.
Hi Maria,
I've now been in my condo for a year, and I continue to be as happy every day as I have been in more years that I care to think about.  Thank you, yet again, for everything you've done since I first got in touch with you!   – McC
Hi. Maria.
Thank you for everything. I will definitely refer you if someone wants to buy a house. – Yi/Park
Thanks again Maria for all of your help (in finding condo.)  You have been great. Both calming when I overreacted and nurturing, just to be a genuine human being. I'll definitely make sure to pass your contact information over to my friends. Thank you.  – DC Client
…Again please let me thank you ENORMOUSLY for all your help and expertise, initiative and effort over these past 3 months.  I have a condo that delights me more than I can say, and that's due to you, the loan officer and contractors with whom you put me in touch.  So please pat yourself on the back! – Maine Buyer
I am delighted to recommend Maria Hardy-Cooper as a real estate professional.  Maria has been my agent for buying a condo in Washington, D.C., and she devoted an unbelievable amount of energy and time to collecting and sending me listings of possible places and then in showing me many of them when I was able to visit the city.  At every step she was clear, informative, and friendly, giving guidance when I wanted or needed it, but also always letting me think things through for myself.  I could not have asked for a more wonderful person to work with, and I recommend her absolutely without reservation.  – Prof. J. McCalla
"Maria is a professional real estate agent who cares about more than just buying and selling homes.  She has been helpful to us since the day we met at (Navy Family Housing Office), answering various questions, keeping us informed about our true position and pointing us in the right direction where need be.  We can always reach out and touch Maria with a question or concern when in need of her professional opinion, suggestion or referral.  She is a straight shooter that we have come to trust and respect.  So long as she's around, she's our agent. Thanks for everything!" – Williams Family (Navy)
"Thank you for an Exceptional Job! Thank you for your Patience!! You are an Amazing Realtor!! Words cannot express our Gratitude!!" Sincerely, – Mr. & Mrs. D
"My husband and I contacted Maria after being referred by a friend.  We were very nervous about buying our first home especially after having attempted the process with another agent several months ago and having a less than wonderful experience.  But Maria made all of those fears disappear upon our very first conversation.  She was not only extremely attentive and knowledgeable, but she was also quite warm and caring.  Thanks to Maria my husband and I are finally homeowners and our little baby boy will have the nursery we've always imagined!" – T and N
"I appreciate all your hard work, professionalism and good humor.  Thanks for all your hard work.  You're really on top of your game … Love working with you!" – R.M.
"I just want to thank you for your dedicated and professional work helping to get this transaction to settlement.  Although frankly I never had any doubts, and pretty much told my seller that with as good an agent on the buyer's side (you), this transaction will almost assuredly go through, and for him not to worry at all.  You are right, you can pretty much count on a transaction going through by knowing who the agent is working it." – J.G., Realtor
"Maria Hardy-Cooper was a tremendous help to us!  She was tireless in finding new properties for sale. She helped us to understand our needs and how we could meet those needs in the DC real estate market. She also explained the bidding process and helped us to construct a winning offer.  Maria kept us informed of every development. As a result, my husband and I found the perfect apartment, and we love it–it was just what we wanted. Thank you, Maria, for helping us make our dream of homeownership come true." – Tom & Kathleen Sullivan
"…You made a tremendous difference in my life.  You sold my house for much, much more than I ever dreamed of getting.  And, you worked hard selling my house.  I could not have asked for a more hard working and more diligent person than you.  I want to thank you and (other agent) for all your help.  You two will always be in my prayers and my memories of my move out of state." – M. Tweedy
Thank you very much for all your help in finding a condo!  (My wife) and I are very happy with our new place.  I look forward to working with you again when it's time to sell! – G. Hiemenz
"Maria was incredibly helpful, nice and knowledgeable.  My situation was unique and I was a first-time (home) buyer.  She got behind me and supported me throughout the whole process.  Maria is a warm, wonderful person who makes the work of buying and selling real estate much more enjoyable and stress-free!" – D. Russell, Washington, DC
"Maria was very thorough and on top of all the details of the transaction.  She was fantastic!" – M. Miller, Washington, DC
"I want to sincerely thank you for selling my house for me.  Your dedication and hard work is appreciated.  …There will be a strong chance that I will be buying in the area over the next year, so I would like to use your services for that pending search.  Once again, thank you." – E.C., Washington, DC
"As promised, my Realtor and Loan Officer contact information are below.  …They are wonderful.  I could not have asked for a more thorough, professional, tenacious and conscientious team, particularly as a first time home buyer.  They explained every aspect of the home buying process, were always available for any of my questions or concerns and ALWAYS operated with my best interest in mind…" – N.T., Washington, DC
"Thanks for all your work on my behalf during this process.  I feel very fortunate to have found such a dedicated, able, and friendly agent.  The "locksmith" came this morning to rekey the locks.  He was very helpful; thanks for the recommendation." – K.M.
"This e-mail comes as a special delivery to thank you for insisting that (the Takoma house) was our house.  Indeed it is!  We are just delighted withour space. … We so appreciate the time and energy you put into our house hunt.  We remember the many Tuesdays, Thursdays and Fridays that we spent with you visiting houses, hoping to find a home.  And now, (we) are in our new house for the holidays! We will stay in touch by recommending you to other homebuyers.  We simply cannot thank you enough.  We LOVE our house." – D & L.R
"I don't have a lot of details because I feel like I didn't do much. Maria took care of everything and I followed her lead. Any questions we had she answered, or if she didn't know she got the answer and got back to us." – Seller, Largo, MD
"Maria was a delight to work with. Her professionalism was exceptional and her tremendous knowledge of the local real estate market was wonderful. She responded timely to all my questions and concerns and with patience resolved all issues concerning the purchase and sale of my house. I highly  recommend Maria." – Buyer, Mount Rainer, MD
"Maria is awesome. We were first home buyers and had an unexpected and time sensitive move. Maria guided us through the process and definitely took a lot of the stress out of the situation. Thanks Maria!" – Buyer, Silver Spring, MD
"Maria worked with us during the entire housing search and closing process. She made herself available whenever we needed her to review something or advise about a property. She is well connected in the local industry so it was easy for her provide referrals to the best professionals needed in  this process (inspectors, insurers, etc). If you're serious about finding a great place, Maria is the person to contact." – Buyer, Silver Spring, MD
"In preparing to sale my home, I called a family member who worked in the Real Estate business, and asked if she knew any good agents that she would recommend. Quickly she responded with Maria. Well she was right! Maria was good and conducted herself professionally through out the process. I would  highly recommend her to family and friends." – Seller, District Heights, MD
"Maria was very professional, patient, responsive to our needs, and a real pleasure to work with. She showed us homes that met our needs and was a keen negotiator when we found the perfect home for us. The whole process went very smoothly thanks to Maria's professionalism and negotiation skills.   I highly recommend her." – Buyer
"My husband and I contacted Maria after being referred by a friend. We were very nervous about buying our first home especially after having attempted the process with another agent several months ago and having a less than wonderful experience. But Maria made all of those fears disappear upon  our very first conversation. She was not only extremely attentive and knowledgeable, but she was also quite warm and caring. Thanks to Maria my husband and I are finally homeowners and our little baby boy will have the nursery we've always imagined!" – Buyer, Washington, DC
"Maria Hardy-Cooper is an agent par excellence—an honorific title I do not use lightly. She is usually overprepared, armed with answers to immediate questions and answers to questions you hardly knew to ask. It is heartening to see her in action, witnessing her level of commitment and  concern—leaving no stone unturned. Her moral compass will have her helping in a situation that may not inure to her financial benefit-rare in today's real estate market. She commands respect in her industry and will be your advocate and champion!" – Buyer, Bowie, MD
"Ms. Hardy-Cooper is a talented agent. She is personable, knowledgeable and values her client's time. She is extremely responsive and honest. I have used her service twice and she exceeded my expectations both times. I'd refer her to anyone in need of her unique talent!" – Buyer, Bowie, MD