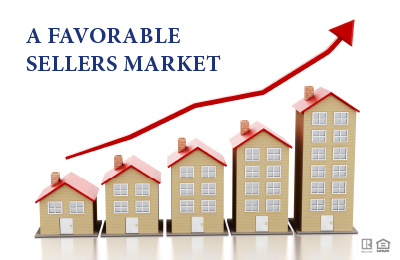 The real estate market is very attractive for homeowners right now.  Housing inventory is down, prices are rising and, while mortgage rates remain low, they will likely grind higher through 2019.  As you know, real estate is very similar to the stock market in that you'd like to "buy low and sell high".  Because of the demand for houses like yours, 2019 presents a unique opportunity to "sell high".
Demand is rising for properties like yours
Last year brought an increase in the number of homes sold nationwide.  Houses at most price points sold quickly and for rising amounts. In fact, January of 2018 marked the 71st consecutive month of year-over-year gains in the nation-wide median home price (according to the National Association of Realtors).
While sales have slowed slightly in 2018, it is not because buying interest has waned, but simply due to a lack of quality homes for sale today.  As of January 2018, the number of homes for sale in the U.S. was down 9.5 percent versus the same period last year.  Further, January marked the 30thconsecutive month of housing inventory contraction!!
Now's the best time to take advantage of the market conditions
Conditions are favorable for home sellers in our market.  Inventory has declined by double-digits, yet demand remains high amongst buyers.  Historically low interest rates only add to that demand, especially since they are predicted to rise this year.  Homeowners also have a record amount of available equity—$5.5 trillion as of third quarter 2017, according to Black Knight Data & Analytics.
If you have been thinking about selling your home, now is undoubtedly the time to make a move.
Get started with me
The best place to start is always at the top—with me and my team at Long & Foster, the No. 1 independent residential real estate brand by sales volume in the United States. As your partner in the home-selling process, I will work with you to:
• Create a custom analysis of your home, gaining a complete understanding of the special features of your house and neighborhood; and
• Develop a customized marketing plan to sell your property for the most money and with the least amount of stress.
Let me be of service to you
Even if you are not interested in selling today, please feel free to reach out to me with any questions you have about the local market and the process of buying, selling and investing in real estate.
I am also happy to prepare a FREE Competitive Market Analysis for your home, so you can get an idea of what it is worth in the current environment.  Many online real estate sites offer automated tools to gauge a home's value, but only a real estate professional like me can give you a true valuation based on your home's current condition, its recent competition and the neighborhood.
If I can help you with selling your home, a free CMA or in any other way, all you have to do is call.  I look forward to hearing from you.
All my best,